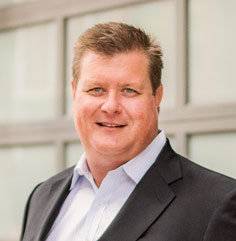 Brad Wilcox is the president and founder of McCall Group, offering clients more than 20 years of experience in engineering and design, construction management, and owner representation on large-scale development projects. With his solid work ethic and attention to detail and deadlines, Brad has earned a reputation as an indispensable part of any development team.
Brad's background provides our clients with the unique perspective of someone who has led projects from all stakeholders' points of view. A registered Professional Engineer, Brad spent almost a decade designing and managing development and infrastructure projects before moving into construction and owner representation. He has worked on some of the largest and most notable construction projects in the region, including the KFC Yum! Center, Papa John's Stadium, Heaven Hill's Evan Williams Bourbon Experience, Whiskey Row's Stabilization and 21c Museum Hotels. As an Owner's Representative, McCall Group has effectively managed more than 1.6 millon square feet of projects totaling more than $460 million of work in place for Owner's in Kentucky, Ohio, North Carolina, Oklahoma, Missouri, and Tennessee.
Brad leads the overall management of the development process with an unparalleled commitment to quality. He works closely with owners to develop a budget and schedule that positions the project for success from the very beginning and then manages the process with the project stakeholders until project completion and turnover. In addition, Brad supports owners with lender requirements throughout the project and has worked with owners on numerous complicated financial dealings, including historic tax credits and other tax incentives.
Brad has a Bachelor's Degree in Civil Engineering from the University of Kentucky and a Master's of Business Administration from Bellarmine University. He is a past president of the Louisville chapter of the Kentucky Society of Professional Engineers and received the Achievement in Private Practice Award, the Daniel V. Terrell PE Award and was selected to Business First of Louisville's 40 Under 40 list in 2014. Brad currently serves on the Executive Committee (Plant Chairman) of the Board of Directors for St. Xavier High School and volunteers his time at St. Margaret Mary Catholic Church. He and his wife Jennifer have two children.
Link
Download VCard